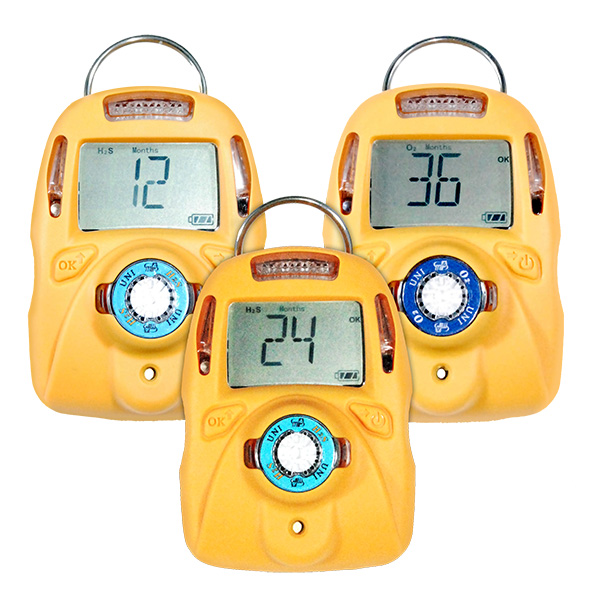 For more information on this product, email us at [email protected]
The UNI 321 is a disposable, maintenance-free version of the UNI single gas monitor. It detects H2S, CO, or O2 in a selection of models with operating lives of 12 months (MP101), 24 months (MP102), or 36 months (MP103)*. The detectors have a large LCD providing maximum readability in the field. Six bright red LEDs allow for quick alarm notification. Constructed of strong and durable material, the UNI is designed to be comfortable, yet drop- resistant. The UNI detectors can easily be bump tested and calibrated with the CaliCase System.
*Storage life before turn-on 6 months for CO & H2S, and 3 months for O2 from date of shipment.
Key Features:
UL, cUL, ATEX, and IECEx intrinsic safety
Covers HAZ. LOC. Class I, ABCD; Class II, EFG; Class II T4
Super large LCD, easy to read digits
High strength shell material, drop resistance and comfort feeling
Battery life 50% longer than conventional products
Full range alarm by 6 bright red flashing LEDs
Up to 50 alarm events in the data log
H2S, CO, or O2 sensor options
Continuous operation in a choice of 3-, 2-, or 1-year models
Set low and high alarm points with Docking Box
Bump tested and calibrated with CaliCase
Unit Includes:
MP10X instrument with a sensor, AA size lithium battery, and alligator clip
Quick Guide
Calibration/Bump test adapter
Also Available:
CaliCase 4-Monitor and UNI 1-Monitor Docking Box
Carry case for bump and calibration
Max 4 UNI units at the same time
One-button operation
Records on micro SD card
Buy Now
| | | | | | | |
| --- | --- | --- | --- | --- | --- | --- |
| Model | Gas | Measuring Range (ppm) | Resolution (ppm) | Part Number | Price | |
| MP101 | H2S | 100 | 0.1 | M014-0002-000 | $112.00 | |
| | CO | 500 | 1 | M014-0001-000 | $112.00 | |
| | O2 | 30.0% | 0 | M014-0003-000 | $112.00 | |
| MP102 | H2S | 100 | 0.1 | M015-0002-000 | $124.00 | |
| | CO | 500 | 1 | M015-0001-000 | $124.00 | |
| | O2 | 30.0% | 0.1 | M015-0003-000 | $124.00 | |
| MP103 | H2S | 100 | 0.1 | M016-0002-000 | $136.00 | |
| | CO | 500 | 1 | M016-0001-000 | $136.00 | |
| | O2 | 30.0% | 0.1% | M016-0003-000 | $136.00 | |
Spare Parts
| | | | |
| --- | --- | --- | --- |
| Description | Part Number | Price | |
| Calibration/bump test adapter, with tubing | M001-3003-000 | $10.00 | |
| Alligator clip with screw | M490-0007-000 | $10.00 | |
| External hydrophobic filter clips with filters for UNI (2 pcs each) | M001-3006-000 | $15.00 | |
| UNI Single Docking Station (MP100T) for calibration/bump and event logging (requires separate regulator and calibration gas) | M001-0089-000 | $500.00 | |
| CaliCase 4-Unit Docking Station (MP300T1) for calibration/bump and event logging (requires separate calibration gas) | M003-0001-000 | $1,980.00 | |